In Today's era, it is evident that the greatest challenges for humanity, including climate change, disease outbreaks, risk management and many more can be resolved through science,[1]by fostering effective partnerships between scientists, policymakers and diplomats. Recognising this, the European Union has increasingly acknowledged the effective role of Science Diplomacy (SD) for solving global challenges by nurturing the next generation of science diplomats. The term 'Science Diplomacy' is often used to indicate scientific cooperation that comprises international dialogues, partnerships and engagements. Apart from governments in developed and developing countries, many intergovernmental organisations and autonomous institutions are making efforts to contribute to Science Diplomacy, in theory and practice. One such endeavour is the Horizon 2020 funded project – Inventing a shared Science Diplomacy for Europe (InsSciDE, which aims to foster dialogue, competence-building and dissemination of theoretical and strategic frameworks for larger goals. To realise its vision, together with its partner, the European Academy of Diplomacy, based in Poland, InsSciDE co-organised the 1st edition of its summer school – an intensive week-long training programme for 28 professionals and students from diverse cultural and educational backgrounds representing 6 continents and 27 countries, including 10 EU member states during June 22-26, 2020. The class of Warsaw Science Diplomacy School (WSDS)  embodied true interdisciplinary and global spirit.

Image: Participants of the Warsaw Science Diplomacy School 2020
WSDS was a rich assortment of experiences and ambitions from fresh graduates, early career researchers of various disciplines to those with advanced training in diplomacy, international relations and public policy. Owing to the COVID-19 pandemic, the school was held virtually. Mentors and instructors from over 9 institutions of the InsSciDe consortium and beyond[2]added to its diversity. The programme sought to develop policy and strategic outcomes through historical case studies. It underlined the relevance of European science diplomacy in tackling global challenges. The science-policy nexus, scientific advice were key concepts, tools and bridges to effectively achieve Science diplomacy.  Prior to the commencement of the school, participants were divided into four case study groups and were introduced to their respective case study author in a pre-teaching session.[3]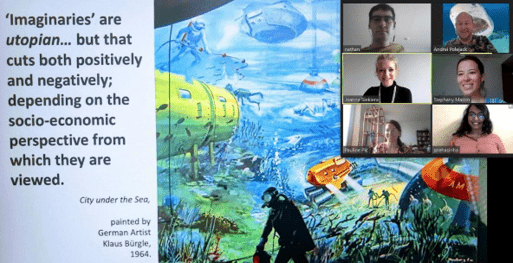 Image: Team Robinson (Oceans) in action 
The five days of WSDS entailed well-structured lectures, group discussions and team assignments. The lectures elaborated various aspects of linking history to science diplomacy in addition to assessing Risk, Safety and Security (RSS) concerns faced in practising and strategizing science diplomacy. The school started with Prof. Rasmus Bertelsen's lecture on Power with Science Diplomacy that gave a multi-disciplinary perspective on science diplomacy, power, historical analogy and strategy. The historical case studies on health aimed to provide a lens to understand the present COVID-19 pandemic. Dr. Björn Fägersten's lectures focused on 'linking science diplomacy and strategy' and 'use of history to inform strategy for the future'. A series of stimulating lectures on Day 4 aimed at showcasing RSS concerns affecting individual science diplomacy scholars or practitioners as well as organizations and states.[4] The school also threw light on various challenges faced in science diplomacy including the need to balance tensions between competition and collaboration. The instructors also emphasised the advantages of interdisciplinary and multidisciplinary approaches in strategy building over a siloed approach. An engaging session with science diplomats was also organised for students to derive insights from practising Embassy and European External Action Service (EEAS) based diplomats.
WSDS encouraged group discussions, assignments and team presentations. Each case study team was allocated one scenario of the Global Strategic Trends matrix based on which they deliberated the EU's role alongside possible actions in European and global diplomacy and policy-making processes at present and in future. Each group was assigned to develop policy advice for strengthening science diplomacy in specific case study themes, for the EU's External Coordination Group (EXCO). In the juried presentation, respective teams discussed the primary interests of the involved actors in Science Diplomacy and aligned policy suggestions, implementation mechanism, risks and consequences of the suggestions, along with ways of mitigating them. Following lectures on RSS in Science Diplomacy, the students also prepared a short presentation that reflected the RSS dimensions for strategies proposed in the policy advice to EXCO at the individual, organizational and state level.  The School thus enabled a unique understanding of history in contextualising current and future challenges. It highlighted the significance of an interdisciplinary outlook in finding holistic solutions through well informed decisions and policy-making. It was an eye-opener for challenges in science diplomacy. This school has certainly helped students to look at present challenges through the lens of history and anthropology, while strategising policies. A key takeaway from this course was the need to maintain the balance between competition and collaboration in international engagements while keeping in mind several risks involved at the individual, organisational and state levels.
            The organisers made efforts to ensure optimum outcome of the virtual experience. Ice breaker activities, yoga and other energising warm-up exercises ensured that the students felt more integrated and relaxed at the same time. In the best of spirits, on the last day, a grand graduation ceremony was held. Professor Griset, Lead Investigator/Coordinator of InsSciDE and Natalia Czajkowska, Head of Executive Education at EAD announced a WSDS Expert Guidance bonus for each participant through a one-on-one meeting opportunity with an expert adviser. To a large extent, this school was able to overcome numerous challenges of the virtual experience and surpassed the expectations of most participants.
[1] Retrieved from https://www.uib.no/en/sdgbergen/131501/science-diplomacy-age-sdgs.
[2] These include Sorbonne University; Universitetet-i-Tromsø, Universidade NOVA de Lisboa; University of Le Havre; Centre national de la recherche scientifique; University of Manchester; Swedish Institute of International Affairs; Pantheon – Sorbonne University and Georgia Institute of Technology, Atlanta.
[3] These were, Dr Muriel Le Roux's team dealt with Natural resources as public goods for global health: Biodiversity negotiations, Celine Paillette's case study group theme was Dealing with the Plague in Oporto 1899-1900: A Matter of Global Epidemic Diplomacy, Dr Daniel Gamito-Marques team focused on Barbosa du Bocage: Scientists in diplomacy during the Scramble for Africa and Sam Robinson's case study was on UN Convention on the Law of the Sea: A co-production of science and diplomacy. The mentors gave lectures on these themes during the first two days of WSDS.
[4] These include lectures by Prof. Rasmus Bertelsen on 'Polar Bears, Pandemics and the Secret Police'; Prof. John Krige's on 'Science Diplomacy and Intelligence, a Historical Overview'; Prof. Ørjan Olsvik's discussed 'Personal RSS in Western African Deployment during Ebola Outbreak'; The archaeological excavations and war-archaeology in conflict zones in the Levant by Prof. Pascal Butterlin and Sensitive science diplomacy and field research in a post-conflict society by Dr. Muriel Le Roux.