Rationale
Rapid advances in emerging technologies is promising to re-shape the global order. Technological drivers such as Artificial Intelligence, Rapid Computing, Big Data, Internet of Things and Blockchain technologies are threatening to affect every facet of our society – be it shaping the future of work and future of diplomacy, augmenting human intelligence, creating authoritarian tools for governments, transforming financial ecosystem through cryptocurrencies, developing intelligent autonomous systems, and manipulating genetics to name a few. These new age technologies will undoubtedly have a transformational impact on social, economic and environmental progress but will also redefine concepts of privacy, ethics and security.
What is the ETI ? 
The vision of ETI is to understand, analyze and anticipate the impact of disruptive, futuristic, emerging, strategic, and critical technologies, that underpin economies, employment, security, social equity, and global relations while identifying forward looking opportunities.  
What do we aim to achieve?
The aim of the ETI is to assist in recommending appropriate policy choices and help inform negotiating capacities vis-a-vis global technology governance rules, and standards, keeping in mind India's development and national security priorities. The ultimate objective is to identify technologies which are of importance and relevance to India and develop feasible roadmap (s) to indigenize them. Indigenization, not only in terms of technology import or acquisition, but also, involving methods such as, technology co-development. 
What are classified as emerging technologies?
Emerging technologies have the potential to disrupt many existing industries and significantly impact employment, security, social equity, and global relations. However, it is important to note that disruptive innovations are not just a result of new technologies.  Incremental innovations in products and processes or aggregation of clustering of technologies can also combine to result in disruptive innovation – as seen recently in the case of several FinTech and AgriTech applications. 
For the purpose of this initiative, an indicative list of technologies are given below for the reference (including but not limited to)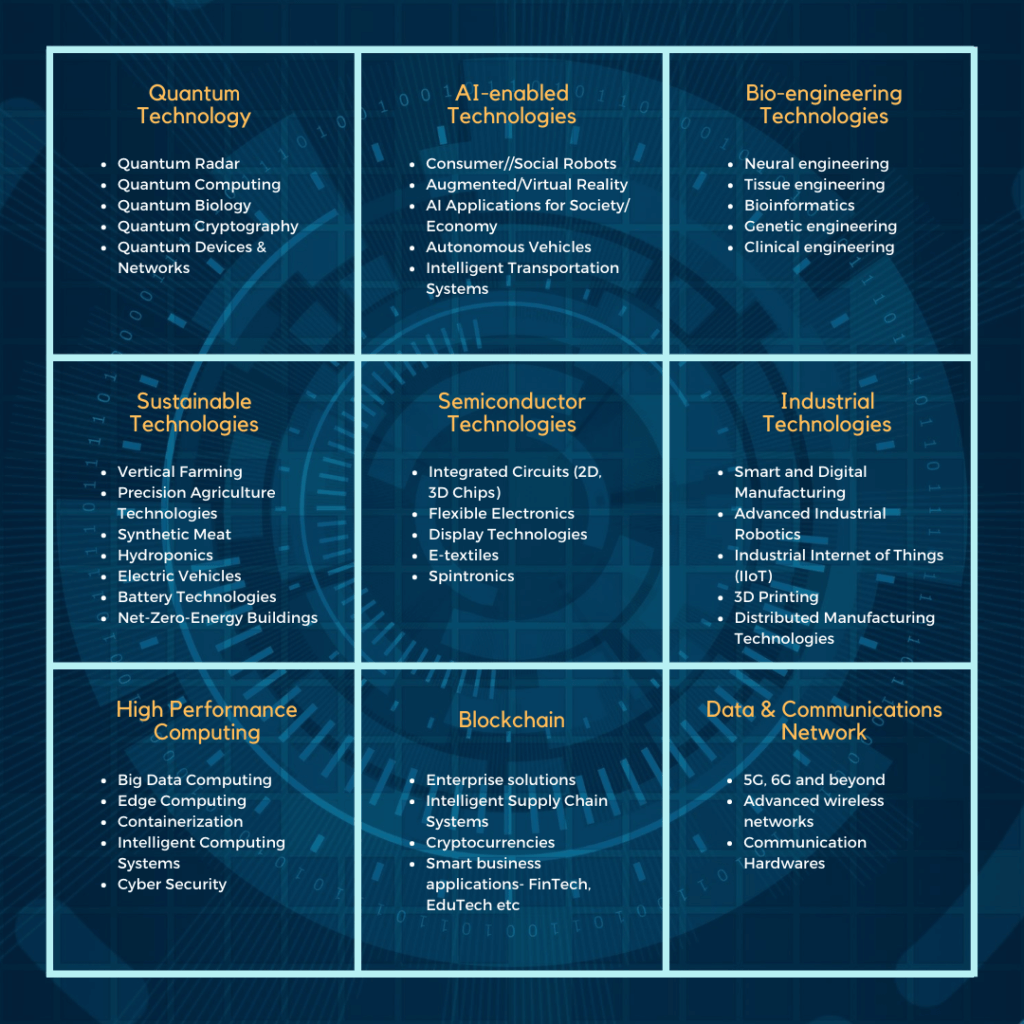 What are the expected outcomes of ETI?
Develop a critical mass of individuals/groups who are interested in thinking at the intersection of 'Science & Technology' and 'International Engagement'

Identify and prioritize the technologies of relevance and importance (present as well as future)

Map technology and innovation hubs in India to anticipate the policy implications of the latest developments in emerging technologies

Build a comprehensive Technology Intelligence Database (TID) for identified technologies. 

Provide evidence-informed policy choices and program roadmaps for technology indigenization (reducing tech dependency and increasing domestic tech intensity)   

Develop and strengthen the tech-knowledge capacity of central and state ministries, departments,  industries, accelerators and startups with the help of TID.

Operationalize the technology indigenization roadmaps with identified stakeholders onboard

Act as a synapsis amongst different stakeholders by facilitating the exchange of knowledge, expertise, and services to develop the emerging technology ecosystem.
How are we going forward?
The ETI process is divided into two phases:
ETI Phase 1
ETI Phase 1 will bring together teams of multidisciplinary stakeholders with an aim to develop a detailed technology landscape, assessment, and foresight report, policy recommendations, and a clearly spelt out technology indigenization roadmap. Each multidisciplinary team will develop these strategy reports based on technologies that are of importance and relevance to India.  (Read More…)  (Download Flyer)
ETI Phase 2
Deliberation of content generated in ETI Phase 1 by relevant stakeholders that includes but not limited to national and international experts, industry leaders, entrepreneurs, science attaches, diplomats with an aim to incorporate recommendations in the policy process and facilitate operationalization of emerging technology roadmaps.
Please find the link to the information session here
What is the Participation Criteria?
Currently, participation in ETI is limited to the ETI phase 1 activity:
Participation is open to Indian citizens and persons of Indian origin 

Participation in ETI is team-based.

Maximum 10 members per team.

Multi-disciplinary, multi-institution teams are highly encouraged (Technology, Business, Government, International Relations, Public Policy, Design, Law and Social Sciences)

Preference will be given to teams that include members from Indian startups/ Industry, and Diaspora

 
How to Participate in the ETI?
Participation in ETI Phase 1 is a two-step process. 
Step 1: The teams are requested to submit an expression of interest (EoI) by 16 Oct. 2020, to partnership@thesciencepolicyforum.org containing the (a) identified technology, (b)  brief synopsis (maximum 500 words) and (c) team composition.
Step 2: The EoIs are evaluated and the shortlisted teams will be notified 30 Nov. 2020. The shortlisted teams will be asked to submit a consolidated technology strategy paper  (maximum 5000 words, at the end of ETI phase 1 (dates will be notified subsequently). 
Partners
The Office of the Principal Scientific Adviser to the Government of India (Office of PSA) is set-up by the Cabinet Secretariat, primarily, to evolve policies, strategies and missions for science, technology, and innovation (STI) in the country. The Office of PSA functions as the Secretariat to some of the apex advisory bodies, including Prime Minister's Science, Technology, and Innovation Advisory Council (PM-STIAC) and Empowered Technology Group (ETG); also involved in implementation of S&T related-synergy projects in critical infrastructure, economic and social sectors in partnership with Government departments, academic and research institutions, and industry.
New Emerging & Strategic Technologies Division in the Ministry of External Affairs (NEST, MEA #NESTMEA) is a new Division under creation to function as the synapsis bringing together policy and operational interfaces with key partner countries and international organisations; foster a well coordinated position on the technology governance rules, standards and architecture which has begun to evolve; identify new emerging technologies with strategic import for India; assess demand driven requirements on NEST in India at Central and State levels; and assess foreign policy implications of NEST and technology-related resources.
Science Policy Forum (SPF) is a collaborative platform that aims to facilitate stakeholder engagement in science, technology and innovation policy (STIP), strengthen science policy linkages  and act as a channel for dialogue, outreach and capacity development.  SPF brings together a community of policy makers, practitioners, experts, young scholars and enthusiasts across disciplines and generates engaging content for the STI discourse.