The São Paulo Innovation and Science Diplomacy School (InnSciD SP 2020) was organised by the Institute of International Relations (IRI-USP) in partnership with the Institute of Advanced Studies (IEA-USP), with the support from the Brazilian Ministry of Foreign Affairs. The annual school was in its second edition and aimed to promote in-depth theoretical and practical discussions on science and innovation diplomacy. We were elated to know of our selection as among the cohort of one hundred and twenty highly motivated participants from thirty-five countries across the world for this school that enabled learning on several aspects of international engagement with special focus on science and innovation diplomacy. 
The Preschool  Public Lectures Programme 2020 from 28 to 31 July, involved global experts  practising science and innovation diplomacy. Professor Pierre-Bruno Ruffini launched the lecture series by visualising science diplomacy through a people-centered approach and highlighted how it can be used as a tool for a better world. He made a distinction between the statist and globalist approaches to science diplomacy as two extremes of a continuum with most practices lying in between them. Dr 'Funmi Olonisakin spoke on the ad hoc but consistent collaborations among scientists in the wake of COVID-19. She also threw light on the lack of leadership infrastructure to mobilise societies. The panel discussions revealed fresh insights on diverse topics including the importance of sub-national initiatives like 'city diplomacy', recent innovation diplomacy advances in the Financial Technology sector, need of a global policy think tank that could compile best practices and highlighted separation of  STI cooperation from science diplomacy. 
 InnSciD SP 2020 proceeded along two tracks:
Science diplomacy track

through which multifaceted dimensions of the intersection between science and foreign policy were addressed.

Dr Robert J. Swap's

lessons on

Transboundary, Transdisciplinary Scientific Collaboration: Lessons from Africa

explored international scientific collaboration through the lens of a multidisciplinary field campaign known as the Southern African Regional Science Initiative (SAFARI-2000). He

laid emphasis on

the role of trust, servant leadership, and science diplomacy in creating mutually beneficial opportunities to undertake societally relevant science.

Dr Ester Cerdeira Sabino

and

Dr Jaqueline Goes de Jesus'

'

Science diplomacy to counter pandemics: the case of Covid-19'

underlined

the role that international scientific collaborations played in their respective careers. They informed about cross-border programs such as

Zibra (Zika in Brazil Real-time Analysis)

and the

Centre for Arbovirus Discovery, Diagnostics, Genomics & Epidemiology (CADDE)

, a Brazil-UK initiative while highlighting how mutual cooperation led to the record time sequencing of Sars-CoV-2 genome.

In a highly engaging session on 'The Amazon near a Tipping Point: The Need of a Novel Sustainable Development Paradigm', Prof. Dr Carlos Nobre asserted the need to radically change the economic drivers of deforestation in the Amazon whose greatest economic potential lies in its immense biodiversity. He discussed 'Amazonia 4.0' a project that utilises modern technologies to develop a 'standing forest-flowing rivers bio-economy' to harness the regional biological assets in a sustainable and inclusive manner. The example of Amazon Biobank of Genome sequences- a blockchain-based platform that creates economic value from the vast biodiversity, was discussed.
Innovation diplomacy track included discussions on the Internationalisation of technology startups, national and international intellectual property (IP) regimes, sustainable development and national and regional innovation ecosystems. In a lecture on 'PORTO DIGITAL', Dr Silvio Meira presented a public policy for ICT [business] innovation and development coupled with inner city reinvention. Mr Liam Hynes, Deputy Director for International Policy at the UK Intellectual Property Office, gave a talk on 'the role of IP in translating research into impact'. He elucidated how the awareness about the IP maximises the impact of research as it allows researchers to make informed decisions. He elaborated how IP forms the basis for collaborations and encouraged researchers to work closely with their universities' Tech transfer offices. Prof. Soumitra Dutta, in an enlightening talk on the 'Findings from the Global Innovation Index for Innovation in a Post-Covid World', mentioned how the global economic crisis due to COVID-19 has indeed strengthened the strategic importance that the corporations and governments attach to innovation. He predicted that the coming times will witness a surge in tech nationalism, tech protectionism and tech monopoly practices across the globe. Here, scale and data are the key drivers of innovation giving bigger countries an advantage.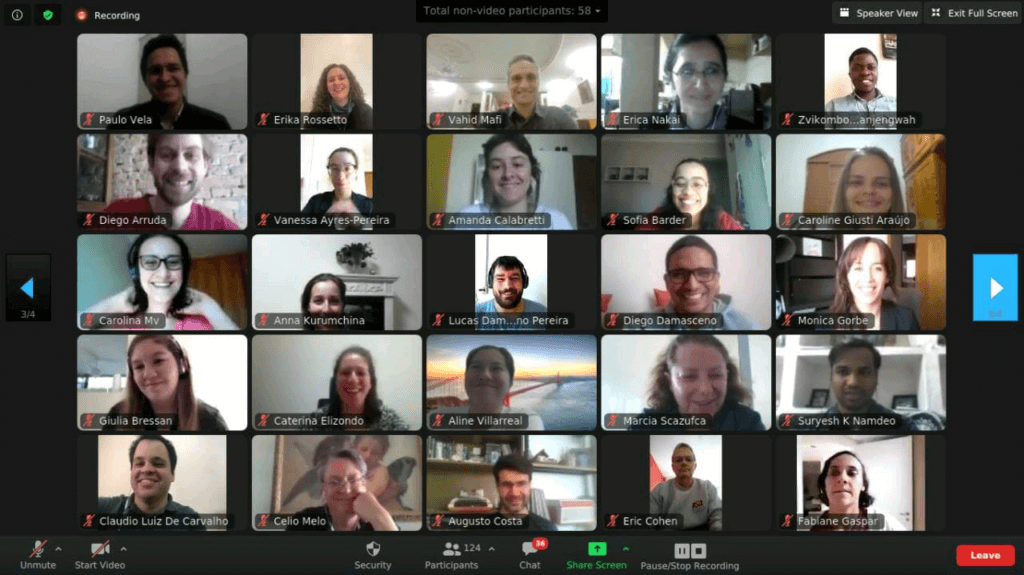 Image: Participants at InnSciD SP 2020
During the panel on 'The Importance of International Collaborations in Life Sciences Research', panelists shared their experience in international engagements and discussed the advantages that cross-border collaborations could bring to enhance national capabilities and address global challenges especially in the global South. The panel discussion titled 'National Scientific Advisors – Brazil and the United Kingdom' deliberated on the national science advice mechanisms to the respective foreign ministries. Networking, international collaboration building and breaking of the silos were underlined as some of the most important and often difficult tasks in Science Diplomacy. These are achievable through the exchange of ideas and best practices among scientists, diplomats and bureaucrats.   
The 'São Paulo Framework of Innovation Diplomacy' was the outcome of the first edition of InnSciD SP in 2019. A panel deliberated its importance and possible impacts on the future of diplomacy along with the need for its reappraisal in the current context. Further deliberation was done on the strategies of different countries to incorporate innovation in their foreign policy. The distinction between science diplomacy and innovation diplomacy was brought out at normative and teleological levels. While science diplomacy focuses more on cooperation and collaboration, innovation diplomacy is driven by competition, dominance and alliance building to promote national interests. The hindrance caused by various international IP laws and WTO rules to letting tech innovations function as the engines of growth were discussed. In a panel on the 'Internationalisation Of Technology Startups', entrepreneurs shared key insights and learnings on the successful expansion of startup businesses internationally.
Group presentations on "Regional Innovation Diplomacy Analysis and Roadmap" created an opportunity for extensive discussions between participants. This assignment enabled understanding of several bilateral and multilateral technology and innovation collaborative projects. The school was divided into groups based on the participant's geographic region (Africa, America, Asia and Europe). An innovation diplomacy strategy document was then drafted for each of these regions by the participants. In addition, each participant also gave individual presentations on their country's "national/state innovation ecosystem".  
Image: One of the group Presentations on Regional Innovation Diplomacy
 The nine days as part of the second edition of InnSciD SP 2020 were marked by a series of high quality lectures, panel discussions and effective coordination by Prof. Amâncio, Secretary Pedro, Gabriela and team with an impressive lineup of expert speakers. Even in the midst of a global crisis, the experience was virtual reality in the true sense, like our Brazilian friends said; "A second edition becomes a tradition".