It is a milestone moment for Indian science, technology and innovation ecosystem as the formulation of 5th national Science, Technology and Innovation Policy 2020 (#STIP2020) is in full swing. 
Background
The formulation of the new policy is initiated jointly by the Office of the Principal Scientific Advisor (Office of PSA) and the Department of Science and Technology (DST). This is only the fifth such policy for India that follows
 The Science Policy Resolution 1958 which aimed to "foster, promote and sustain" the "cultivation of science and scientific research in all its aspects"

The Technology Policy Statement 1983 which emphasized the need to attain technological competence and self reliance, with the objective to "integrate programmes of socio-economic sectors with the national R&D system and the creation of a national innovation system"

The Science and Technology Policy 2003 which brought the benefits of Science and Technology to the forefront and also focused on the investment required for research and development along with the national innovation system.

The Science, Technology and Innovation Policy 2013 which focussed on the large demographic dividend and set the paradigm "Science technology and innovation for the people."
The new policy STIP 2020 revolves around the core principles of  being decentralized, evidence-informed, bottom-up, experts-driven and inclusive.
Rationale
As India and the world reorient in the wake of the COVID-19 crisis, a landmark policy initiative has been flagged by the Government of India. STIP 2020 is being formulated at a crucial juncture when India and the world are tackling the COVID-19 pandemic. As the crisis has set the 'new normal', the policy aims to reorient STI in terms of priorities, sectoral focus and strategies. It is one of the most significant events amidst many important changes in the past decade that have necessitated formulation of a new outlook and strategy for Science, Technology, and Innovation (STI). This policy is the culmination of new perspectives and reforms that addresses India's science, technology and innovation. The core vision of STIP 2020 is the decentralization of policy designing by making it a bottom-up and inclusive process. It aims to realign priorities, sectoral focus and methods of research and technology development with the goals of larger socio-economic progress. 
Policy Process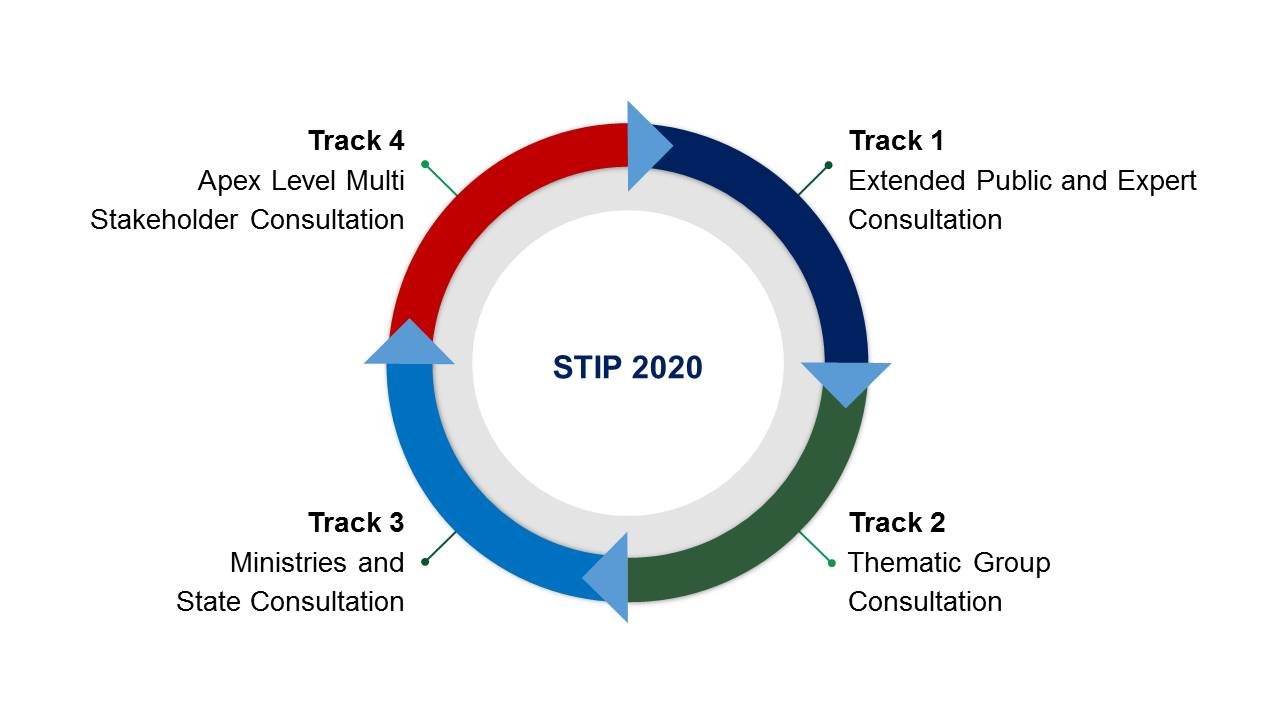 A participative model with four interconnected tracks has been envisioned to formulate the STIP 2020. The consultation processes on different tracks have already started and are running in parallel.
Track – I Extended public and expert consultation,  aims to capture the aspirations of a larger set of stakeholders and create a repository of public voices that will act as a guiding force for the drafting process. There are six unique activities under this track, designed carefully keeping the limitations (access, reach, digital services, language barriers and last-mile connectivity) of different stakeholder groups in mind. Through live virtual conversations with thought leaders, thematic public panel discussions, focused survey instruments, digital and print media campaigns along with community radio broadcasts and a competition called 'the ideathon' to ignite minds to engage creatively with STIP 2020. Track I, through the Science Policy Forum, engages with a larger pool of public and experts, and gathers inputs during and after the policy drafting process. Click here and unlock opportunities to participate in the drafting process of STIP 2020 
Track II – 21 Thematic Groups, comprises experts-driven thematic consultations to feed evidence-informed recommendations into the policy drafting process. Twenty-one (21) focused thematic groups have been constituted for this purpose. 
Track III Ministerial and state consultation 
Track III involves consultations with Ministries and States for which nodal officers are being nominated in States and in Ministries, Departments and Agencies of Government of India for extensive intra-state and intra-department consultation. The 'State/UT Consultations' focus on strengthening the regional STI ecosystem and creating efficient means of STI Policy Governance at the state level that can lead to the creation of state STI Policies and action plans in tandem with the national STIP 2020. The ministerial consultation process will take key policy recommendations from different ministries and incorporate them into a form that can lead to the creation of a broader STI policy governance and robust STI data architecture.
Track IV Apex Level Multi-stakeholder Engagement
This track is the binding force that draws upon the apex-level multi-stakeholder engagement at the national as well as global levels. This track is ex-officio in nature, involving representatives from governments, academia, industry and civil society organizations. The Track-IV apex-level consultations have focused deliberations planned with (i) young scientists and technologists, (ii) civil society organizations with special focus on farmers, (iii) scientific ministries, departments and agencies, (iv) socio-economic ministries and department, (v) state governments, and (vi) global partners.
Timeline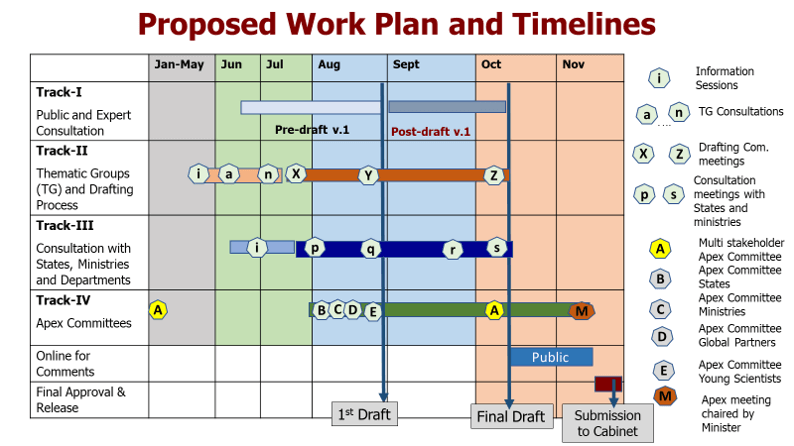 The STIP 2020 process followed a tightly-knit timeline, as proposed in the figure above. The preparatory work started in October 2019 and all the necessary approvals were taken by January 2020. The process was delayed due to COVID-19 until mid May 2020. During this time, under Track-III, ministries, departments and states were nominated their dedicated nodal officers..
In May-June 2020, the activities of Tracks I and II kick-started in  full swing. Track-II started with a series of information sessions (26-30 May 2020) to the thematic group experts and Track-I was launched with a virtual TownHall meet on 12 June, 2020.
Track-II TG consultations took place in multiple rounds through the month of June after which each TG submitted the recommendation in a 3-page template provided by the STIP2020 Secretariat. A workshop-style drafting committee meeting was held on 18 July, 2020 to consolidate all the TG recommendations and produce the predraft version 1 of STIP 2020. The inputs obtained from Tracks I and III, and other sources were provided to the TGs at every stage so that they were considered, wherever possible, in the drafting process.
After incorporating all the inputs, post Draft Version 1 (D.V.1) will then be taken for larger public, expert, and apex-level multi stakeholder consultations. The post-draft consultations will run in parallel in all three tracks for about 30 days. The feedback and consultation inputs will then be taken back to the TGs for further deliberations. The next draft version (D.V.2, possibly the final version) will be compiled at this stage. The final draft will then be put out in public domain for comments and feedback, tentatively, from mid October to mid November 2020. After incorporating the feedback and necessary changes, the final draft (D.V.3) will then be taken for cabinet and higher-level approvals.
How to Engage / Contribute?
We at the SPF, jointly with STIP 2020 Secretariat and Gubbi Labs, have designed six instruments to guide the representative vision of Track 1:
In Conversation With 
The 'Public & Experts Consultation' track of the process is planned to have interviews with experts and leaders in various capacities to provide inputs for the upcoming Science, Technology and Innovation Policy (STIP2020). These moderated interviews will feature institutional leaders, industry leaders, thought leaders in various fields including parliamentarians, policy scholars and accomplished researchers. The interviews will be in an online format that would be open to the public through live streaming on different platforms. (Read more…)
Across the table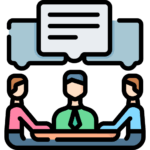 One of the set of activities planned under the 'Public & Experts Consultation' track is to hear out different perspectives from experts in various fields through a series of participatory discussions. These discussions, about 16 in total, are themed around 21 identified thematic groups, which would be impacted by the country's science, technology and innovation policies. The discussions are designed as online panels of experts, with each panel consisting of three to five members, who talk about the relevance of STI policies in their field.  (Read more…)
Policy Compass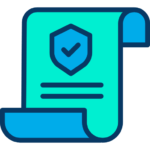 The Science Technology and Innovation Policy (STIP 2020) by way of its decentralized, bottom-up and inclusive design process aims to restrategize priorities, sectoral focus, and methods of research and technology development for larger socio-economic welfare. Policy Compass is a dedicated platform through which people can give their suggestions, views, and ideas in the formation of the Science, Technology, and Innovation Policy 2020 (STIP2020).  (Read more…)
Open Letter
The 'Open Letter' series aims to gather expressions in writing across the country. This will begin with a common article informing about Science, Technology and Innovation Policy 2020 (STIP2020), its process, themes and modes through which you can be a part in STIP 2020 policy making process, in various national and regional newspapers. In order to make this inclusive and give you an opportunity to be a part of this initiative the article will be published in different regional languages. (Read more…)
Thoughts for India
Thoughts for India is a podcast series in partnership with community radios across the country in which we raise awareness about science policy, the current policy design process and how our lives are intertwined with the progress we make as a nation in these fields. It is our individual and collective voices that will ultimately become the driving force of this policy. We aim to reach out to a diverse audience in various regional languages through this podcast (Read more…)
Ideathon
Albert Einstein once said "The greatest scientists are artists as well". With a view to seek inputs in creative ways towards the formulation of the STIP 2020, we are happy to announce an Ideathon. The Ideathon is a competition where participants are encouraged to share any concept or ideas related to their views about the STI ecosystem and what/how the policy should be addressing it. This can be in any creative form of expression.  (Read more…)
Ask for the changes you seek. Participate in the making of STIP 2020.
STIP 2020 in Media 
All PIB releases for STIP2020
Media articles related to STIP 2020
"An Expert Explains: New investments in science", The New Indian Express, 07 January, 2021
"In India's draft science policy: One subscription, lateral entry, NRI-talks"The Hindu, 07 January, 2021
"New science policy proposes lateral entry of scientists in related ministries",  The New Indian Express, 06 January, 2021
"DST finalises National Science Technology and Innovation Policy. Here's how you can suggest changes till January 25", Edex Live, The New Indian Express, 06 January 2021
"Science policy to help researchers access top journals for free", The Hindu, 06 January, 2021
"India's new science policy proposes lateral entry of scientists in related ministries", Srivatsan K C, Hindustan Times, 06 January 2021
"New policy proposes benchmark for 'ease of doing research", News Today, 05 January 2021. 
"The draft STIP's inclusion of LGBT and gender is welcome", Hindustan Times, 03 January 2021
"Science, tech, innovation policy proposes developing benchmark for 'ease of doing research'",  Ayshee Bhaduri, Hindustan Times, 03 January 2021
"STIP 2020: Draft science, tech innovation policy proposes developing benchmark for 'ease of doing research'", Financial Express, 03 January 2021
"More women, inclusion of LGBT community focus of draft STIP 2020", Business Standard, 02 January 2021
"S&T: 30% top positions for women, spousal benefits for LGBTQ+", Chethan Kumar, Times of India, 02 January 2021
"STIP draft targets self-reliance in tech", The New Indian Express, 02 January 2021. 
"INSA Meet: DST Secy Sharma, dignitaries talk democratising science, tech, innovation, STIP 2020", Indus Dictum, 18 December, 2020

"

Science, Technology and Innovation Policy 2020: A Way Forward", Rajesh Mehta and Badri Narayanan Gopalakrishnan, Financial Express, 26 November 2020
"Landmark Policy Initiative STIP 2020 Has Been Initiated: Harsh Vardhan", ANI, 08 November 2020 
"View: Science Technology and Innovation Policy (STIP 2020): Targeting to become Atma Nirbhar", Dr Ashwini Kumar Sharma, Economic Times, 07 November 2020
"Aligning India's STIP-2020 vision with NEP", Harsh Vardhan, Hindustan Times, 23 October 2020.
"A New Science, Tech Innovation Policy", Harsh Vardhan, Hindustan Times, 07 October 2020
"Scientific Social Responsibility' likely to be notified soon", M Ramesh, The Hindu Business Line, 07 October 2020
"India gives highest attention to sharing of scientific data: DST Secy", PTI New Delhi, Business Standard, 05 October 2020. 
"New Science Policy 2020 to rank educational institutes based on support to women staffers", FE Online, Financial Express, 29 September 2020. 
"India's next science, technology, and innovation policy to be more people centric", Iyush, The Indian Wire, 31 August 2020.
"Policymakers discuss ways to address gender gap in STI Policy 2020", PTI New Delhi, 22 September 2020.
"New S&T Policy in the Works Has a Chance To Foster Demand-Driven Innovation", Kapil Patil, The Wire Science, 29 August 2020
"India Must Take Advantage Of Disruptive, Impactful Technologies: Harsh Vardhan",ANI, Business World, 28 August 2020
Harsh Vardhan invites stakeholders in country and abroad to participate in formulating STIP 2020", News on AIR, International News, 28 August 2020
"Dr. Harsh Vardhan calls for public participation in formulating STIP 2020", DD News, 28 August 2020.
"India's open access future", Manju Naika* and Sandeep Kumar Pathak, Nature India, 19 August 2020. 
India news scroll,13 August, 2020, Source PTI. 
"Salesian community radio helps central government frame Science policy",Ajanta Chakraborty, Times of India, 9 August, 2020
"Can India's New STI Policy Help India Achieve Its Sustainable Development Goals?", Bipashyee Ghosh, Sumit Kumar, The Wire Science, 31 July 2020
"Centre plans to table first draft of fifth science policy by October", Esha Roy, Indian Express, 27 July, 2020
"Industry captains participate in consultation roundtable for STIP 2020", Express Pharma,PIB, 03 July 2020 
"How the Indian Government Can Help Improve the Ease of Doing Research", Manu Awasthi Republished in The Wire, 30 June2020
"To bolster policy framework, DST to organise Town Hall meet for STIP 2020 on June 12" ETGovernment, 11 June, 2020
"COVID forces India to rethink sci-tech policy, Centre formulating STIP 2020",Rekha Dixit, The Week, 10 June, 2020 
"Govt initiates consultation process for new science, technology and innovation policy", Outlook India news scroll,03 June, 2020, Source PTI. 
"India's new science policy to be informed by COVID-19 crisis", Nature India, 2 June 2020.
STIP 2020 Events Calendar
The calendar of STIP 2020 has been flooded with events that meet the objectives of the different tracks. Follow our events here
Secretariat & Contributors 
A Secretariat with in-house policy knowledge and data support unit, has been set up at DST (Technology Bhavan) to coordinate the entire process. A cadre of 25 secretariat staff  jointly and seamlessly functions between the Office of PSA and DST. It involves officials from the Office of PSA, DST, and DST STI policy fellows. STIP-2020 Secretariat coordinates the complete process and the interplays between the 4 highly interlinked tracks in the policy formulation process. 
In close consultation with STIP 2020 Secretariat, the Track 1 activities are designed, coordinated and executed by the Science Policy Forum, in partnership with Gubbi Labs and Rockstar Social. In addition, enthusiastic individuals are contributing enormously in their personal capacity.